SAP ERP Software
SAP offers several different ERP solutions which serve the needs of different sized businesses. The current SAP ERP product go to market includes SAP Business One, SAP Business ByDesign and SAP S/4 HANA. All three SAP ERP products are available in hybrid deployment models - available as both Cloud ERP or On-Premise ERP solutions, with the exception of SAP Business ByDesign:
Top 10 ERP Software Report
Get our free in depth comparison of the Top 10 ERP solutions available on the market including Netsuite, Acumatica, Oracle, SAP and more.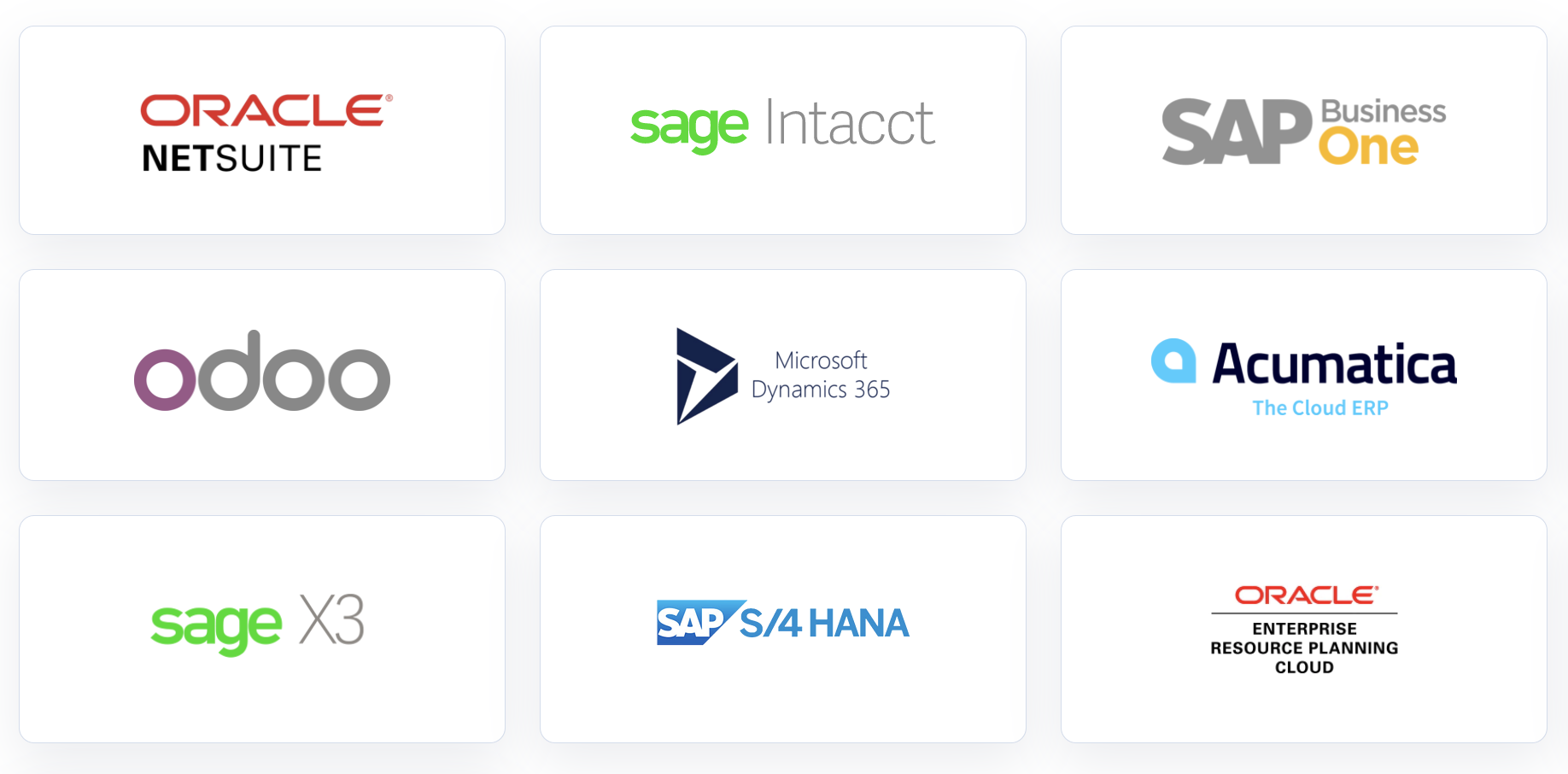 SAP ERP User Interface
In recent years, SAP has refreshed the user interface for many SAP ERP products including SAP Business One, SAP Business ByDesign, SAP ECC6 and SAP S/4 HANA. Many of these ERP solutions now leverage Fiori, which is SAP's award winning user interface, or use a design very similar to this. All of these SAP ERP solutions also provide dedicated mobile applications or native mobile access via your mobile web browser.
SAP ERP Competitors
SAP ERP solutions offer enterprise resource planning software for a wide range of industries and business sizes. Common competitors for SAP ERP are Sage, Oracle, Microsoft Dynamics, Oracle Netsuite and many others.
What is SAP?
SAP is Europe's largest software vendor. Headquartered in Waldorf, Germany, SAP is known for its pedigree in Tier 1 Enterprise Resource Planning (ERP) solutions and software. SAP employs over 102,000 people globally but has now expanded into several other line of business product lines, covering additional functionality to core ERP through organic development but also acquisition.
In 2021, SAP sells multiple enterprise resource planning (ERP) solutions for small businesses through to global companies and multinationals, as well as software for Human Capital Management (HCM), Customer Experience (CX), database, analytics and much more.
What is SAP ERP?
SAP ERP is a catch-all term for enterprise resource planning software created by software vendor SAP. There is in fact no 'SAP ERP' as the term can relate to any of SAPs current or previous ERP software including SAP Business One, SAP Business ByDesign, SAP S/4 HANA, SAP ECC6, SAP R3 and more.
What does SAP ERP do?
SAP ERP software typically serves a wide range of functions but ultimately aims to centralize data and business processes into one system so that business leaders can run reports in real-time and employees can pass critical business data from one department to another.
SAP ERP typically includes functions including:
Financial Management & Accounting
Manufacturing & Production
Quality Management
Reporting, Business Intelligence & Analytics
Project Management and Portfolio Management
Real Estate Management
Supply Chain Management
Demand Forecasting
Materials Resource Planning
Time and Attendance Tracking
Warehouse Management & Inventory Management
Sales & Distribution


What is SAP RISE?
Rise is a new offering from SAP which bundles their Cloud ERP solutions with other SAP products as an all in one subscription. Rise is applicable for both existing and new SAP customers and can offer SAP S/4 HANA Private Cloud, S/4 HANA Public Cloud or SAP Business Suite on HANA / ECC6 in the Cloud. RISE offers multiple options for ERP Cloud hosting including Google Cloud Platform (GCP), Amazon Web Services (AWS) or Microsofy Azure. On top of this, SAP offers their own technical managed services (TMS) as part of the subscription cost.
How much does SAP ERP cost?
That depends on which SAP ERP software you choose to use as each of SAPs current ERP systems has a different price bracket.
The smaller ERP solutions built for SMEs such as SAP Business One and SAP Business ByDesign can cost anywhere from $10,000 per year to $250,000 a year just for software licensing. The implementation of SAP B1 or SAP Business ByDesign can cost in the region of $50,000 and $500,000.
Larger SAP solutions such as SAP ECC6 or SAP S/4 HANA have much larger implementation and running costs, with software costing $50,000 into the millions of dollars and implementation costing x2-x8 that cost depending on the complexity of your ERP project.
It's also worth consider if you are purchasing SAP Cloud ERP or SAP On-Premise ERP as this will affect whether you have to pay a yearly subscription or up front capex costs.
SAP ERP History
SAP was founded in 1972 by five IBM employees - Dietmar Hopp, Hasso Plattner, Hans-Werner Hector, Klaus Tschira, and Claus Wellenreuther. SAP was one of the first software vendors to integrate business processes and data into one system, also known as Enterprise Resource Planning (ERP). Starting with financial management and accounting, invoice verification, and stock/inventory management, the German software giant capitalized on globalization with the breakthrough of client/server technology, allowing companies with disparate operations to harmonise their data and processes around the world.
Wider SAP Product Portfolio
What other products & solutions does this ERP vendor offer?
Human Capital Management
SAP SuccessFactors
Spend Management
SAP Ariba
Customer Experience
SAP Commerce Cloud
Spend Management
SAP Concur
Spend Management
SAP Fieldglass
Customer Experience
SAP Marketing Cloud
Business Process Management
SAP Signavio