Best Cloud ERP Software
Cloud-based ERP Software
ERP systems for SMB & small businesses need to be cost effective, scalable and improve key business KPI's such as customer satisfaction and productvity.
At ERP Research, we help businesses to find the Cloud and online, web based ERP software which will take them to their next stage of growth with 100% vendor agnostic advice.
Best Cloud ERP Software
Here are some of the most popular web based, Cloud ERP software solutions for all businesses. These ERP solutions are available as Cloud based ERP software which can be accessed from your web browser or mobile device.
Cloud ERP for your industry
Find Cloud-based ERP systems for your industry with our Top 10 Cloud ERP industry reports below:
What is Cloud ERP?
Cloud ERP is enterprise resource planning software which is hosted in a private or public datacentre by a third party on behalf of your organization. Depending on the type of ERP Cloud product you choose, the service will differ but can also include application management services (AMS), technical managed services and product support and maintenance, in one subscription model.
Cloud ERP
Private Cloud ERP
Private Cloud ERP systems is enterprise resource planning software which is hosted in a dedicated, single tenanted datacentre environment. This is typically necessary when your organization needs to make business specific customizations to the infrastructure or application.
Cloud ERP
Public Cloud ERP
Public Cloud ERP solutions are hosted in a multi-tenanted datacentre environment, which means that your organization will share ERP infrastructure and applications with other organizations. The benefit to this is that the cost of Public Cloud ERP systems are typically very economical.
Benefits of Cloud ERP
What are the benefits of Cloud-based ERP systems?
Benefits of Cloud ERP
Scalability
Cloud ERP can be scaled up or down very easily which makes it a great choice for organizations with changing structures and needs, whether that be growth, divestments or acquisitions.
Benefits of Cloud ERP
Total Cost of Ownership
Cloud ERP software makes use of industries of scale by outsourcing hosting and the day to day management of the application to a third party.
Benefits of Cloud ERP
Futureproofing
Cloud ERP software typically makes upgrading your ERP software faster and easier, allowing your business to take advantage of new functionality faster, as well as compliance and local accounting updates.
Benefits of Cloud ERP
Speed & Agility
Cloud ERP software typically relies on configuration for setup rather than customization. This means that Cloud ERP ca be implemented, then adapted later quickly and cheaply.
Disadvantages of Cloud ERP
What are the cons of Cloud-based ERP systems?
Benefits of Cloud ERP
Customization
Typically, Public Cloud ERP (see above) software limits the amount of customization that can be applied to your ERP. Often, this prevents you from touching the application code which in some circumstances can prevent you from adapting the ERP software to your specific business needs.
Benefits of Cloud ERP
Control & Data Security
When Cloud ERP first became popular, there were large concerns over cyber & data security. Today, these fears are largely put to rest as large ERP vendors typically have IT security budgets that dwarf most organizations.
Cloud ERP Software
Can't find the ERP system you're looking for?
Compare Cloud ERP systems with our free ERP comparison tool.
ERP Cloud
How does Cloud ERP help Businesses?
Organisations tend to use a series of applications, tools, spreadsheets and accounting systems to operate their businesses. Naturally, they acquire these processes through sporadic changes and growth spurts, but unfortunately the price of this is data siloes and inefficiencies.
Modern Cloud based ERP systems designed for small businesses and SMEs provide integrated functionality across the following modules:
Accounting and Financials
Unify financials across your business and grow into new territories with multiple companies using modern SMB ERP.
Control spend and optimise requisition processes using popular SMB ERP solutions.
Manage business assets with ERP for engineering to easily capitalise and monitor your assets.
Develop a single view of your engineering business in order to increase transparency, decision-making and ultimately drive results.
Automate expenses requisitions and approvals with integrated expenses management to help your engineers be more productive.
Review your customer service history and provide better cross-selling, up-selling and post-sale customer support to help deliver products more accurately.
Deliver comprehensive inventory management that provides insight into your entire flow, from purchasing to transportation and delivery.
Track & plan sales pipeline, score leads, prospects and forecast opportunities in real-time across territories, accounts and teams.
Compile global financial, manufacturing, project and process information into a central location.
Combine your sales, customer service, and engineering processes into a single solution designed to meet the needs of a broad range of engineering tasks.
Flexible ERP software that's built on an open and extensible foundation, allowing you to choose the features that suit your business needs.
Access your ERP data at any time so you're more available to customers and take advantage of unexpected opportunities as they surface.
ERP software for the engineering industry features all of the tailored solutions an organization needs to design, build and document their projects faster.
Backed by the consistency of market-leading vendors, ERP software regularly updates to ensure an optimal user experience.
Connects customers, partners, and employees through real-time digital relationships to improve the way you do business.
ERP implementation is a longterm strategic partnership and vendors provide free unlimited technical support for clients.
ERP Cloud
What's the difference between PSA & ERP?
In the professional services world, many organizations are adopting professional services automation tools to increase productivity. But what is professional services automation and how does it differ from enterprise resource planning?
Read More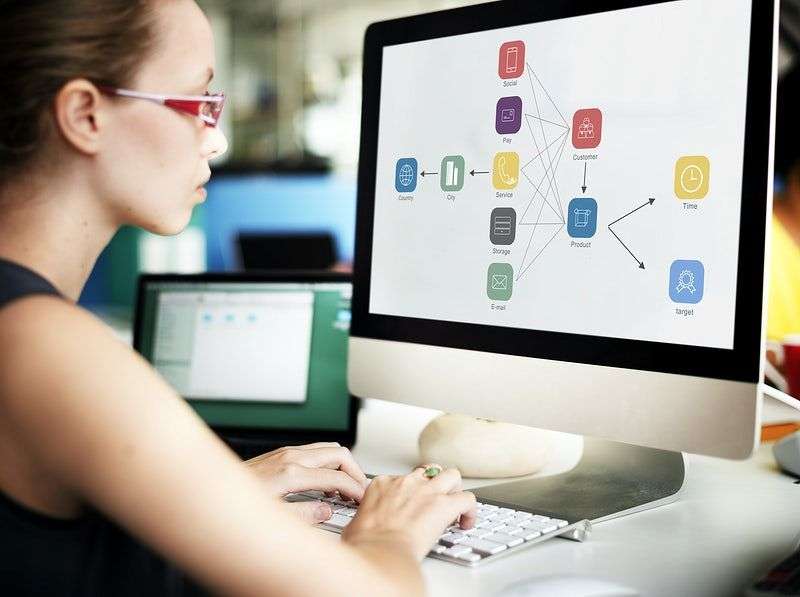 ERP Cloud
ERP Requirements Gathering (RFI, RFP) Template Excel
Start your ERP evaluation process with our RFI & RFP Excel template for the engineering industry.
Download
ERP Cloud
ERP Project Budget Calculator Template
Calculate the costs of your ERP project with our prebuilt budget calculator.
Download
Cloud based ERP Software
Start your Cloud ERP journey with ERP Research
We help engineering firms to prepare for ERP change by guiding them through each stage of the process:
Compare ERP Cloud Software Solutions
Find & Compare ERP Software for Small Businesses
Use our free tool to find and compare the market leading ERP software and solutions for SME businesses. See SME ERP system solutions including Netsuite, SAP, Oracle, Sage and Workday stack up with 100+ other SME ERP solutions.