Best Cloud ERP Software
Cloud ERP Software
Cloud ERP systems for SMB & small businesses need to be cost effective, scalable and improve key business KPI's such as customer satisfaction and productvity.
At ERP Research, we help businesses to find the Cloud and online, web based ERP software which will take them to their next stage of growth with 100% vendor agnostic advice.
Best Cloud ERP Software
Here are some of the most popular web based, Cloud ERP software solutions for all businesses. These ERP solutions are available as Cloud based ERP software which can be accessed from your web browser or mobile device.
What is Cloud ERP?
Cloud ERP is enterprise resource planning software which is hosted in a private or public datacentre by a third party on behalf of your organization. Depending on the type of ERP Cloud product you choose, the service will differ but can also include application management services (AMS), technical managed services and product support and maintenance, in one subscription model.
Cloud ERP
Private Cloud ERP
Private Cloud ERP systems is enterprise resource planning software which is hosted in a dedicated, single tenanted datacentre environment. This is typically necessary when your organization needs to make business specific customizations to the infrastructure or application.
Cloud ERP
Public Cloud ERP
Public Cloud ERP solutions are hosted in a multi-tenanted datacentre environment, which means that your organization will share ERP infrastructure and applications with other organizations. The benefit to this is that the cost of Public Cloud ERP systems are typically very economical.
Benefits of Cloud ERP
What are the benefits of Cloud-based ERP systems?
Benefits of Cloud ERP
Scalability
Cloud ERP can be scaled up or down very easily which makes it a great choice for organizations with changing structures and needs, whether that be growth, divestments or acquisitions.
Benefits of Cloud ERP
Total Cost of Ownership
Cloud ERP software makes use of industries of scale by outsourcing hosting and the day to day management of the application to a third party.
Benefits of Cloud ERP
Futureproofing
Cloud ERP software typically makes upgrading your ERP software faster and easier, allowing your business to take advantage of new functionality faster, as well as compliance and local accounting updates.
Benefits of Cloud ERP
Speed & Agility
Cloud ERP software typically relies on configuration for setup rather than customization. This means that Cloud ERP ca be implemented, then adapted later quickly and cheaply.
Disadvantages of Cloud ERP
What are the cons of Cloud-based ERP systems?
Benefits of Cloud ERP
Customization
Typically, Public Cloud ERP (see above) software limits the amount of customization that can be applied to your ERP. Often, this prevents you from touching the application code which in some circumstances can prevent you from adapting the ERP software to your specific business needs.
Benefits of Cloud ERP
Control & Data Security
When Cloud ERP first became popular, there were large concerns over cyber & data security. Today, these fears are largely put to rest as large ERP vendors typically have IT security budgets that dwarf most organizations.
ERP Cloud
How does Cloud ERP help Businesses?
Organisations tend to use a series of applications, tools, spreadsheets and accounting systems to operate their businesses. Naturally, they acquire these processes through sporadic changes and growth spurts, but unfortunately the price of this is data siloes and inefficiencies.
Modern Cloud based ERP systems designed for small businesses and SMEs provide integrated functionality across the following modules:
Accounting and Financials
Unify financials across your business and grow into new territories with multiple companies using modern SMB ERP.
Control spend and optimise requisition processes using popular SMB ERP solutions.
Manage business assets with ERP for engineering to easily capitalise and monitor your assets.
Develop a single view of your engineering business in order to increase transparency, decision-making and ultimately drive results.
Automate expenses requisitions and approvals with integrated expenses management to help your engineers be more productive.
Review your customer service history and provide better cross-selling, up-selling and post-sale customer support to help deliver products more accurately.
Deliver comprehensive inventory management that provides insight into your entire flow, from purchasing to transportation and delivery.
Track & plan sales pipeline, score leads, prospects and forecast opportunities in real-time across territories, accounts and teams.
Compile global financial, manufacturing, project and process information into a central location.
Combine your sales, customer service, and engineering processes into a single solution designed to meet the needs of a broad range of engineering tasks.
Flexible ERP software that's built on an open and extensible foundation, allowing you to choose the features that suit your business needs.
Access your ERP data at any time so you're more available to customers and take advantage of unexpected opportunities as they surface.
ERP software for the engineering industry features all of the tailored solutions an organization needs to design, build and document their projects faster.
Backed by the consistency of market-leading vendors, ERP software regularly updates to ensure an optimal user experience.
Connects customers, partners, and employees through real-time digital relationships to improve the way you do business.
ERP implementation is a longterm strategic partnership and vendors provide free unlimited technical support for clients.
ERP Cloud
What's the difference between PSA & ERP?
In the professional services world, many organizations are adopting professional services automation tools to increase productivity. But what is professional services automation and how does it differ from enterprise resource planning?
Read More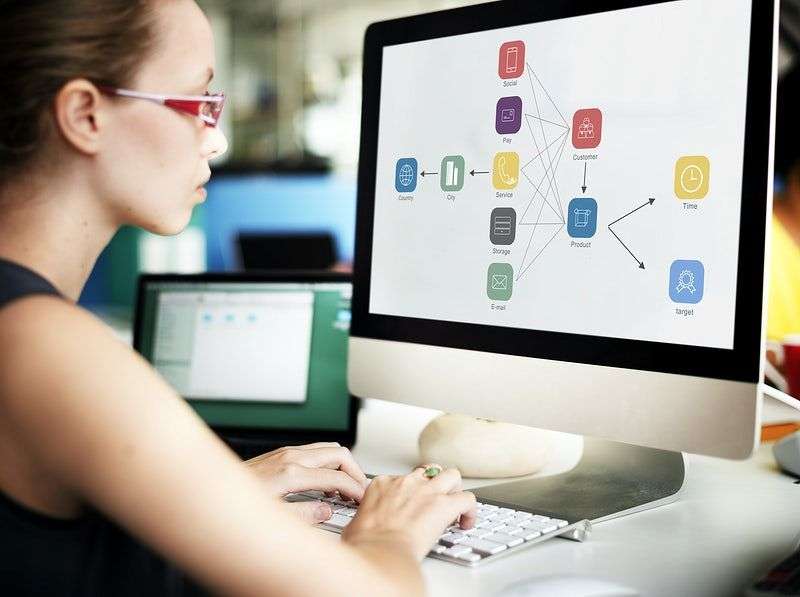 ERP Cloud
ERP Requirements Gathering (RFI, RFP) Template Excel
Start your ERP evaluation process with our RFI & RFP Excel template for the engineering industry.
Download
ERP Cloud
ERP Project Budget Calculator Template
Calculate the costs of your ERP project with our prebuilt budget calculator.
Download
Cloud based ERP Software
Start your Cloud ERP journey with ERP Research
We help engineering firms to prepare for ERP change by guiding them through each stage of the process:
What is Cloud ERP?
Cloud ERP (Enterprise Resource Planning) refers to an ERP system where the software, data, and computing resources are hosted in the cloud, rather than on-premises in a company's own data center. Cloud ERP solutions are delivered to users over the internet and are typically offered as a service, meaning that businesses can subscribe to the service rather than purchasing and maintaining their own hardware and software.
Here are some key features and benefits of Cloud ERP:
Cost Efficiency: Cloud ERP often reduces the need for businesses to invest in large-scale hardware or data centers. This can lead to cost savings in terms of both initial capital expenditure and ongoing maintenance.

Scalability: Cloud solutions can be easily scaled up or down based on the needs of the business. This flexibility allows businesses to adapt to changing demands without significant system overhauls.

Accessibility: Since Cloud ERP is internet-based, users can access the system from anywhere with an internet connection. This is especially beneficial for businesses with multiple locations or remote workers.

Automatic Updates: Cloud ERP providers typically handle maintenance and updates, ensuring that businesses always have access to the latest features and security patches without having to manage these updates in-house.

Disaster Recovery: Many cloud providers offer backup and disaster recovery solutions, which can be more efficient and reliable than on-premises solutions.

Security: While there are concerns about data security in the cloud, many cloud providers invest heavily in security measures, often more than what an individual company might be able to afford for its on-premises solution.

Collaboration: Cloud solutions often come with collaboration tools that allow employees to work together in real-time, regardless of their physical location.

Subscription Model: Many Cloud ERP providers operate on a subscription model, which can be more financially flexible for businesses. Instead of a large upfront cost, businesses pay a recurring fee based on usage or number of users.
However, while Cloud ERP offers many benefits, it's not without challenges. Concerns about data security, data sovereignty, and the potential for service outages are some reasons businesses might be hesitant. It's essential for each business to evaluate its specific needs, risks, and benefits when considering a move to a Cloud ERP solution.
What are the different types of Cloud ERP?
Cloud ERP systems can be categorized based on their deployment models and the services they offer. Here are the primary types of Cloud ERP based on these categorizations:
1. Based on Deployment Model:
Public Cloud ERP:

Hosted on cloud infrastructure owned by third-party cloud service providers (e.g., AWS, Google Cloud, Microsoft Azure).
Resources (like storage and servers) are shared with other businesses.
Typically, the most cost-effective option but might not be suitable for businesses with stringent data security or compliance requirements.

Private Cloud ERP:

Dedicated cloud infrastructure for a single organization, either managed internally or by a third-party.
Offers more control over data, better customization, and potentially higher security.
Generally more expensive than public cloud solutions.

Hybrid Cloud ERP:

Combines elements of both public and private clouds.
Allows businesses to keep sensitive data or applications on a private cloud while utilizing the public cloud for less-sensitive data or overflow needs.
2. Based on Service Model:
Software as a Service (SaaS) ERP:

The software is hosted in the cloud and delivered over the internet.
Users access the ERP system through a web browser.
The cloud provider manages everything from the application down to the infrastructure.
Typically billed on a subscription basis.

Platform as a Service (PaaS) ERP:

Provides a platform allowing customers to develop, run, and manage applications without dealing with the infrastructure.
Useful for businesses that want to build custom applications on top of their ERP system.

Infrastructure as a Service (IaaS) ERP:

Provides virtualized computing resources over the internet.
Businesses have more control over the infrastructure, but it requires more management compared to SaaS or PaaS.
3. Based on Functionality:
Horizontal ERP:

Offers a broad set of modules and functionalities suitable for a wide range of industries.
Examples include financial management, HR management, and CRM.

Vertical ERP:

Tailored for specific industries or sectors.
Includes features and modules relevant to that industry, such as manufacturing, healthcare, or retail.
How much does Cloud ERP cost?
The cost of a Cloud ERP system can vary widely based on several factors:
Size of the Organization: Larger organizations with more users typically pay more than smaller businesses.

Functionality and Modules: ERP systems often come with different modules (e.g., finance, HR, supply chain management, CRM). The more modules and advanced features you need, the higher the cost.

Customization: If the out-of-the-box solution doesn't meet your business's unique needs, customization can add to the cost.

Data Migration: Transferring data from old systems to the new ERP can be a complex process, especially if the data structures are very different.

Training: Implementing a new ERP system often requires training for staff, which can add to the overall cost.

Subscription Model: Most Cloud ERP solutions operate on a subscription basis, where you pay a recurring fee (monthly or annually). This fee can be based on the number of users, the volume of transactions, or other metrics.

Vendor: Established ERP vendors might charge more than newer or less-known vendors. However, the trade-off might be in terms of reliability, features, and support.

Additional Costs: These can include costs related to integration with other systems, additional storage or bandwidth needs, and ongoing support or consulting fees.
To give a ballpark figure is challenging due to the wide range of options and factors involved. However, as a very general guideline:
Small businesses might expect to pay anywhere from $10,000 to $150,000 annually.

Mid-sized businesses could be looking at $150,000 to $1 million annually.

Large enterprises might pay well over $1 million annually.
It's essential to note that these are very rough estimates, and the actual costs can vary. significantly based on the specifics of the implementation and the vendor chosen.
How do you implement Cloud ERP?
Implementing a Cloud ERP system is a significant undertaking that requires careful planning, coordination, and execution. Here's a step-by-step guide to help you navigate the process:
Needs Assessment:

Identify the business processes that need to be managed or improved.
Determine the specific features and functionalities required.

Vendor Selection:

Research and shortlist potential Cloud ERP vendors based on your needs, their reputation, customer reviews, and case studies.
Request demonstrations and, if possible, trial versions.
Compare pricing, features, support, and scalability.
Finalize a vendor that aligns with your requirements and budget.

Project Planning:

Establish a project team, including stakeholders from key departments, IT personnel, and possibly external consultants.
Define clear objectives, milestones, and timelines.
Allocate resources, including budget and personnel.

Data Migration:

Cleanse and standardize existing data to ensure it's accurate and consistent.
Determine which data needs to be migrated to the new system.
Use data migration tools or services provided by the ERP vendor.

Customization and Integration:

Modify the ERP system to fit your specific business processes if the out-of-the-box solution doesn't meet all your needs.
Integrate the ERP with other existing systems (e.g., CRM, e-commerce platforms) to ensure seamless data flow.

Testing:

Conduct thorough testing to identify any issues or gaps.
Test different modules, user roles, and business scenarios.
Address any bugs or problems that arise.

Training:

Train end-users on how to use the new system effectively.
Offer different training methods, such as workshops, online tutorials, and hands-on sessions.
Ensure that users have access to resources and support during the transition.

Go-Live:

Once testing is complete and you're confident in the system's readiness, transition to the new ERP.
Monitor the system closely during the initial phase to address any issues promptly.
Provide a feedback mechanism for users to report problems or suggest improvements.

Post-Implementation Review:

After a set period, review the system's performance and user feedback.
Address any lingering issues or areas for improvement.
Consider ongoing training or refresher courses for users.

Ongoing Support and Maintenance:
Ensure that you have a support agreement in place with the ERP vendor.
Regularly update the system to benefit from new features and security patches.
Monitor system performance and user feedback continuously to identify areas for improvement.
Can you migrate an On-Premise ERP to the Cloud?
Yes, you can move an on-premise ERP to the cloud, but the process can be complex and requires careful planning and execution. This transition is often referred to as "cloud migration." Here's a general overview of the steps involved:
Assessment:

Evaluate the current on-premise ERP system to understand its architecture, data structures, customizations, and integrations.
Identify the reasons for moving to the cloud (e.g., cost savings, scalability, remote access) and set clear objectives for the migration.

Choose the Right Cloud Model:

Decide between public, private, or hybrid cloud based on your business needs, budget, and security requirements.
Determine the service model: SaaS, PaaS, or IaaS. For many businesses, a SaaS ERP solution might be the most straightforward, but it may not offer the same level of customization as the on-premise version.

Select a Cloud Provider:

Choose a cloud provider that has a good track record, offers the necessary resources, and can meet your security and compliance needs.
Some popular cloud providers include AWS, Microsoft Azure, and Google Cloud Platform.

Plan the Migration:

Develop a detailed migration plan, outlining each step, timelines, and responsibilities.
Consider potential challenges, such as downtime, data loss, or compatibility issues, and plan for contingencies.

Data Migration:

Clean and prepare the data from the on-premise system for migration.
Use data migration tools or services to transfer data to the cloud. Ensure data integrity and consistency post-migration.

Customizations and Integrations:

Re-implement customizations made in the on-premise ERP in the cloud environment. This might require re-coding or using cloud-native tools.
Ensure that the cloud ERP integrates seamlessly with other business systems.

Testing:

Thoroughly test the cloud ERP system to ensure all features work as expected and that data has been migrated accurately.
Address any issues or bugs that arise during testing.

Training:

Train users on the new cloud ERP system, as there might be differences in interfaces or processes compared to the on-premise version.

Go Live:

Once testing is complete and you're confident in the system's readiness, make the switch to the cloud ERP.
Monitor the system closely during the initial phase to address any issues promptly.

Ongoing Management:
Regularly update and maintain the cloud ERP system.
Monitor performance, security, and user feedback to ensure the system meets business needs.
What are the Top 10 Cloud ERP Systems?
Are Cloud ERP systems secure?
Cloud ERP systems, like all cloud-based solutions, come with both security advantages and challenges. The security of a Cloud ERP largely depends on the cloud provider, the ERP vendor, and the measures implemented by the end-user organization. Here's a breakdown of the security aspects:
Advantages:
Expertise and Resources: Leading cloud providers invest heavily in security, often more than what an individual company might be able to afford. They employ security experts, conduct regular audits, and stay updated with the latest security threats and countermeasures.

Regular Updates: Cloud ERP vendors typically handle maintenance and updates, ensuring that businesses always have access to the latest security patches.

Data Redundancy: Cloud providers often store data in multiple locations, ensuring data redundancy. This can be beneficial in case of disasters, hardware failures, or data corruption.

Advanced Security Features: Many cloud providers offer advanced security features such as encryption (both in transit and at rest), multi-factor authentication, intrusion detection systems, and more.

Compliance: Reputable cloud providers adhere to various international and industry-specific compliance standards, such as GDPR, HIPAA, and SOC 2.
Challenges:
Data Breaches: Like any online system, cloud ERPs are potential targets for data breaches. However, the risk is often more about how the system is used and configured than the cloud itself.

Data Control and Sovereignty: Storing data in the cloud can raise concerns about data sovereignty, especially if data centers are located in different countries with varying regulations.

Multi-tenancy: In a multi-tenant cloud environment, multiple customers share the same infrastructure. While data is logically separated, vulnerabilities or misconfigurations could potentially expose data.

Downtime: While cloud providers aim for high availability, there's always a risk of downtime, which could impact business operations.

Vendor Lock-in: If a cloud ERP vendor uses proprietary technology or formats, it might be challenging to migrate away or integrate with other systems.
Where is data hosted in a Cloud ERP system?
Cloud ERP data is hosted in data centers owned and operated by cloud service providers. These data centers can be located anywhere in the world, and the specific location often depends on the cloud provider's infrastructure and the preferences or requirements of the ERP customer. Here's a more detailed breakdown:
Cloud Service Providers: Major cloud service providers like Amazon Web Services (AWS), Microsoft Azure, Google Cloud Platform (GCP), and others have data centers spread across various regions globally. When a business opts for a Cloud ERP solution, the data might be stored in one of these data centers.

Regional Availability: These cloud providers typically offer multiple "regions," and within each region, there are multiple "availability zones." A region refers to a specific geographic area, and an availability zone is a data center within that region. For redundancy and high availability, data can be replicated across multiple availability zones within a region or even across regions.

Data Residency and Compliance: Due to data sovereignty laws and regulations in various countries, businesses might have specific requirements about where their data can be stored. For instance, a company operating in the European Union might prefer (or be mandated) to store its data within the EU to comply with GDPR. Cloud providers often allow clients to choose specific regions for data storage to meet these requirements.

Private Clouds: If a business opts for a private cloud ERP solution, the data might be hosted in a dedicated data center provided by the cloud vendor or in a data center owned by the business itself. In this scenario, the data location is more predictable and can be chosen based on the business's preferences.

Hybrid Clouds: In a hybrid cloud setup, some data might be stored on-premises (in the business's own data center), and some might be stored in the cloud. The distribution of data depends on the specific architecture and requirements of the business.

Vendor-Specific Solutions: Some ERP vendors might have their own cloud infrastructure rather than relying on major cloud providers like AWS or Azure. In such cases, the data is stored in the vendor's data centers, and the locations would be specified in the service agreement.
It's essential for businesses to understand where their Cloud ERP data is hosted, not only for compliance and regulatory reasons but also for considerations related to latency, redundancy, and disaster recovery. Before committing to a Cloud ERP solution, businesses should discuss data hosting specifics with the vendor or service provider.
Compare ERP Cloud Software Solutions
Find & Compare ERP Software for Small Businesses
Use our free tool to find and compare the market leading ERP software and solutions for SME businesses. See SME ERP system solutions including Netsuite, SAP, Oracle, Sage and Workday stack up with 100+ other SME ERP solutions.