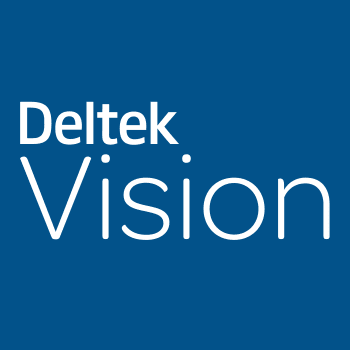 Deltek Vision Pricing
Get a quote for Deltek Vision in minutes using our free quote request tool.
GET PRICING
What is Deltek Vision?
Deltek Vision ERP is a multi-language, multi-currency enterprise resource planning (ERP) solution for professional service firms. Deltek Vision is marketed specifically for organizations who undertake project based work for their clients or customers.

Available via the cloud or on-premise deployment, the solution also operates on tablets and mobiles, via operating systems including iOS, Windows and Android. Deltek has teamed with Amazon Web Services (AWS) in order to deliver its cloud based solution.

The ERP combines a number of modules including project accounting and project management, time and expense management and client relationship manager (CRM).

Deltek have a 'partner network' which is comprised of a number of different organizations who support Deltek to sell, refer, implement and consult on the numerous Deltek products which exist. Deltek also provide consulting services to support implementation or performance improvements in existing products.

Deltek launched Deltek Vantagepoint in August 2018. Also ERP software, Deltek Vangatepoint has been identified as a replacement for both Vision and Deltek for Professional Services. Deltek have indicated that Vision will continue to be supported until at least the end of 2022, dependent on the number of customers who have migrated to Vantagepoint at this time. Vantagepoint can be deployed on-premise or via the cloud, and current Vision users are not being forced to upgrade.

Deltek Vantagepoint provides the same, but upgraded, level of functionality as Deltek Vision, and the migration to this new ERP should be relatively straightforward. Vatagepoint has the same foundations as Vision 7.6 (the most recent release), the reporting platform remains SQL Server Reporting Services and the architecture and database structure are the same
Deltek Vision Functionality Overview
SAP Business ByDesign (ByD) is a Cloud (SaaS) ERP solution with a comprehensive set of integrated functionality. This functionality is built around over 30 core processes which can be configured towards the needs of your business.
In this section we have curated a list of the core modules and functionality which SAP Business ByDesign offers:
Deltek Vision Modules
Financial & Project Accounting
This module provides a one stop shop for all the financial and performance data needed at both an organizational and individual project view. By integrating with the general ledger, full control and visibility of performance is provided.
The module provides all the typical finance tools required by a business, including general ledger, billing, accounts payable and receivable and financial reporting. The module also supports multi-currency and multi company transactions.
As the software is built for project based businesses, data can be analyzed on a project basis – for example by client name, project name, invoice number, billable hours or time periods. This supports your organization to prevent leakage of revenue and ensure invoices are accurate. The module also provides reporting to further ensure financial stability - reporting on aged debt, billings against contract, profitability and margins. The granularity of data available supports financial control and audit transparency.
Deltek Vision Modules
CRM
The Deltek Vision CRM provides the management of opportunities through the full lifecycle – from lead and proposal to conversion into a project. By allowing access to client and proposal information throughout the whole organization, the CRM provides full transparency and collaboration on leads and proposals. Deltek Vision is designed for organizations who work on a multi project, multi client basis – ie those who sell a number of projects to the same client on an ongoing or ad hoc basis, typically, a professional services type firm.

The module has the functionality to integrate with marketing platforms such as HubSpot in order to undertake targeted marketing based on client lists from the CRM, or can be sent through other platforms used by an organization through a secure API. Information on leads can be captured in the CRM, allocated and tracked. Activities for the leads or client accounts can then be scheduled to ensure maximum client coverage.

As a lead moves to proposal stage, proposals can be automated through the use of Adobe InDesign and Microsoft Word, both of which are also integrated with the CRM. The CR also provides access to the most up to date metrics, boilerplates and information on your organization, reducing time and increasing the accuracy of the information which is provided.

The Service Estimating capabilities allow more accurate proposal costings to be generated and approved, through the integration with the Resource Planning module. The module enables costings and project margins to be accurately calculated through both resource and expense analysis. Based on this, organizations can make evidence based go and no-go decisions on proposals. Estimates can then be quickly, automatically, converted into project plans and timelines.
Deltek Vision Modules
Purchasing
The Purchasing module manages the whole purchasing process, from requisition to receipt regardless of purchase type, whether this is for materials, services or capital items.
Requisition quotes can be generated through the browser by employees across the whole of the organization, or limited based on approvals, and similar rules can be generated to ensure purchase approvals are based on a pre-defined hierarchy. Once a quote has been received, approvals can given to authorise and create a purchase order online. The entirety of the purchasing process is moved online, automated and maintained through a number of system generated notifications and alerts through the workflow.
As Purchasing is integrated with the other modules, expenses which are project related can quickly be coded, ensuring that the entirety of projects costs are understood and applied and can be compared against the budgeted costs at all times. The module automatically creates accounts payable transactions, updating the general ledger.
Deltek Vision Modules
Asset Management
Deltek Vision's Asset Management module is designed for the management and maintenance of fixed assets within your organization. The module follows assets from acquisition, through tracking, depreciation and disposal and maintains a single repository of all the assets within your organization in one place.

Using the module, information records can be created for each asset in the equipment info center. An asset can be registered through an AP transaction, purchasing transaction or by manually creating a record and then assigned to an employee.

The module can be used for the purposes of depreciation , through a multitude of different depreciation methods based on the taxation methods followed by your organization. The income potential of assets can also be tracked through the module, ensuing that Return on Investment (ROI) is realised in the most efficient and time effective manner.
SAP Business ByDesign Modules
Human Resources (HRIS)
SAP Business ByDesign provides functionality for time recording, expenses management, holiday, absences and leave request management, plus an employee database with basic payroll functionality. The HR capabilities of SAP Business ByDesign are light in comparison with a best of breed HCM suite, but will allow your employees to self serve and administrate holidays and absences without burdensome input from line managers.
Deltek Vision Modules
Performance Management
The performance management module is a business intelligence module which is focussed on providing insight. The module provides data on a role basis, meaning that colleagues across your organization are able to view the performance data they require, sourced from one system, providing a single source of the truth.

The Performance Management capability allows trends to be monitored, ensuring decisions can be based on data and made proactively before risks arise or are realised. The data and trends can be analyzed on a geographical, market, industry, sector or project basis. All the data provided is real time – meaning fast reporting and decision making.

The drag and drop functionality of the dashboards allows users to interrogate data easily, without the need or time delay of involving IT, and with easy sharing, reports can be provided across the organization for full collaborative input.
Deltek Vision User Interface (UI)
SAP Business ByDesign is a Cloud ERP solution which offers a modern user experience (UX) compared to older SAP enterprise resource planning (ERP) solutions such as ECC6 and R/3. Built on HTML5 technology, the solution optimises itself regardless of the device being used, enabling users to access the solution on mobile solutions as well as desktops & laptops.
Each user can also personalize the solution to their own specification, hiding or showing different work centers on their home screen depending on the specific responsibilities of their role.
The system also makes use of a useful Enteprise search function which allows users quickly locate business documents, customer records and more within the system.
ByDesign also offers mobile applications for iOS & Android devices, providing a fast window into the system for purchase order approvals, project management tasks and expenses management.
Deltek Vision
Get Demo
Organise a personalized demo of Deltek Vision with a local certified solution provider suited to your business needs and industry.
REQUEST DEMO
Deltek Vision Third Party Extensions
SAP Business ByDesign offers further functionality via over 70+ third party extensions to the core ByDesign ERP solution. These extensions are offered via the SAP Store and are generally developed by SAP Solution Partners or SAP Value Added Resellers (VAR's). These third party extension extend the capabilities of the core SAP Business ByDesign Cloud ERP software to offer it's customers greater industry capabilities.
Extensions cover additional capabilities for SAP Business ByDesign such as:
Advanced Quality Management
Contract and Utilities Billing
Further localization packs
Enterprise Asset Management
EDI integration
Field Service Management
Integrations into other platforms such as Salesforce, Microsoft Dynamics, Hubspot and many more.
Deltek Vision History
Deltek was founded in Virginia, US in 1983 by Donald deLaski, who remained an active part of the organization as CEO until 1996 and a Board Member until 2005. DeLaski initially built an accounting organization for government contractors, before moving towards automation through software and forming Deltek. DeLaski passed away in March 2012.

Mike Corkery, CEO since 2012, has seen the business double in size since he undertook the CEO position. Before his CEO role he was Chief Financial Officer within Deltek, and has held other senior roles at tech companies.

Deltek currently has over 3,000 employees and 30,000 customers over 80 countries, including the EU, Asia-Pac and USA.

Deltek has a large product portfolio, and continues to invest in new products, including the recent Deltek VantagePoint. It's most well known products include; Deltek Vision, Deltek PM Compass, Deltek Costpoint and Deltek Costpoint CRM.

Some of the most notable professional services and government customers are Analysys Mason, Ogilvy and Mott Macdonald.


Deltek Vision Deployment
SAP Business ByDesign is offered only as a Cloud ERP solution, in a true Software-as-a-Service (SaaS) model. The solution is hosted by SAP themselves and includes quarterly upgrades and product support directly.
SAP ByDesign cannot be purchased as a perpetual license or On-Premise solution.
SAP Business ByDesign offers a lot of functionality that can help professional services firms including integrated financial management & accounting, deep project management, billing, customer relationship management and more.
SAP Business ByDesign provides a rock solid foundation for businesses in the discrete manufacturing industry.
SAP Business ByDesign offers robust functionality for pharmaceuticals specific requirements including batch traceability and serialisation. This makes it easier for pharmaceuticals manufacturers and distributers to comply with industry requirements and complete any product recalls.
✅ Deltek Vision Pros
Wide and deep functionality across many key business areas.
Heavily designed for the Professional services and project based organizations.
Enables in depth project based analysis on financials, performance, utilization and revenue.
Supports the launch of targeted marketing campaigns for organizations who need to win project work.
Automates many aspects of the proposal process.
❌Deltek Vision Cons
Not suitable for organizations that are outside the Professional Services / project driven environments
All modules come as standard and pricing is based on this, so pricey for those who do not require all the functionality provided by the modules
Upgrade to Deltek Vantagepoint will be required sometime in 2022 onwards
Deltek Vision Pricing
SAP Business ByDesign pricing & licensing costs are priced based on three user types:
SAP Business ByDesign Advanced User
SAP Business ByDesign Core User
SAP Business ByDesign Self Service User
Each user type has a variety of capabilities ranging from full supply chain and financial management through to time recording, absence management and expenses management. The pricing for each Business ByDesign user scales according to their capabilities.
ERP Research has worked with hundreds of businesses that have evaluated SAP Business ByDesign and can provide you with an independent license pricing and implementation estimate, hassle free.
Deltek Vision
Get Pricing
Get a quick, hassle free cost estimate for Deltek Vision software licensing and implementation for your business.
REQUEST PRICING
Deltek Vision APIs (Application Programming Interface)
SAP Business ByDesign allows for external applications to read and write data or perform actions with SAP Business ByDesign via the use of API's. The solution features 198 API's in total which cover a variety of scenarios including:
Calculate Price - extract price components (price, discount, surcharge, freight, product information)
Determine product availability
Create goods receipt confirmations
Maintain Demand Plans
Manage account hierarchies
Manage bank statements
Manage cash payments
Manage customer contracts
Manage customer invoice requests
Manage contacts
Manage employee time
Manage leads
Manage lease contracts
Manage VAT entries
Manage list prices
Manage materials
Manage production orders
Query business partners
Manage products
Manage kit item list
Manage labour resource cost rates run
Manage logistics layout execution
Manage material valuations
Manage object descriptions
Manage opportunities
Manage partner companies
Manage product designs
Manage purchase orders
Manage purchase requests
Manage purchasing contract
Manage sales orders
Manage sales price lists
Manage sales quotes
Manage sales price specifications
Manage suppliers
Query accounts
Query account open amounts
Query bank statement
Deltek Vision Frequently Asked Questions (FAQ)
How much does Deltek Vision cost?