PRODUCT INFORMATION:
Vendor: QAD
Release Date:
PRODUCT MARKET FIT:
51-1000 Employees
$5-100M Revenue
DEPLOYMENT:
✅ Cloud
✅ On-Premise
WHAT IS QAD ERP?
QAD ERP is an enterprise resource planning software which is designed for midsized and large manufacturing companies.
DOWNLOAD FULL GUIDE TO QAD
QAD ERP Modules & Functionality
QAD provides a rich set of functionality through several modules within the software. In this section we'll take an in-depth look at the full list of QAD modules available and provide an overview of the functionality in this Cloud ERP solution.
QAD ERP Modules
QAD ERP Enterprise Financials module covers:
General Ledger
Accounts Receivable
Accounts Payable
Fixed Assets
Budgeting
Governance, Risk and Compliance
Consolidations
Financial Analysis
Internationalization
Banking & Cash Management
Credit Management
QAD ERP Modules
Customer Management
QAD ERP Customer Management module covers:
Sales Quotations
Sales Orders
Logistics
Customer Consignment
Configurator
Pricing
QAD ERP Modules
Manufacturing
QAD ERP Manufacturing module covers:
Product data management
Manufacturing planning
Manufacturing execution
Lean
Production scheduler
Manufacturing quality
QAD ERP Modules
Enterprise Asset Management (EAM)
QAD ERP Enterprise Asset Management (EAM) module covers:
Capital projects
Plant Maintenance
MRO Management
QAD ERP Modules
Supply Chain
QAD Supply Chain supports supply networks with enhanced visibility, and the ability to drive margin and cost improvements, reduce lead times, increase inventory turns and meet industry compliance requirements.
• Improves margins: Helps eliminate waste and reduces inventory
• Drives the effective enterprise: Promotes efficient business processes
• Streamlines communication: Customer and supplier portals simplify and speed communication
• Increases responsiveness: Faster access to information means faster response times
Supply Chain Highlights Distribution Requirements Planning (DRP): Intra-company demand planning allows companies to easily plan, manage, track and record costs associated with the transfer of items between sites.
Enterprise Operations Planning (EOP): Supports the highest level of S&OP and integrates with planning and scheduling.
Global Requisition System: Manages requisition entry and approval. It provides electronic notifications and enforces company policies on all direct and MRO requisitions.
Purchasing: Automates all phases of procurement from requisitioning, supplier scheduling, through purchase order creation and printing, to recording the receipt of goods and services.
QAD ERP Modules
Service and Support
QAD Service and Support product suite enables exceptional after-sale service and support. The suite covers all aspects of tracking and support for equipment after manufacture, from installation to on-site or warranty repair, and manages engineer/technician schedules, warranty/service contracts and records of installed base configuration. Designed to ensure customer satisfaction, QAD Service and Support suite resolves service calls, manages service queues and organizes mobile field resources. Companies need to systematically manage all interactions related to the support, maintenance and repair of products; grow revenue and reduce service costs. QAD Enterprise Applications provides tools for warranty and service contracts, spares management and after-sale services.
• Improve technician effectiveness: Assign tasks to the nearest tech with the right skill to resolve an issue, maximizing customer satisfaction and minimizing technician travel
• Control and reduce warranty and service contract costs: Automatically bill for labor and parts on out-of-warranty service calls and know revision levels of installed equipment so technicians can bring the right service parts the first time
Service & Support Management: Manages installation, ongoing support, maintenance and repair of products including coverage by warranty or service contracts, and tracks engineering resources.
Field Service Scheduler: Helps reduce costs and improve customer service by improving service engineers' productivity and optimizing other resources in the field.
Mobile Field Service: PC-based application that allows field engineers to log in remotely to record activities from a customer site driving improved customer service and field productivity.
QAD ERP Modules
Analytics
QAD Analytics enables companies to become effective enterprises by monitoring performance against defined key metrics and key indicators. It provides reporting any way the user wants, from basic reporting through simple browses, to user portals or complex OLAP analysis—all in real time. It allows users to view trends and drill down into detailed data from multiple sources, providing the flexibility and accuracy to quickly make fact-based decisions, and to analyze and share critical information.
• Drive performance to strategic metrics: Monitors and reports performance against defined strategic effective enterprise metrics
• Improve business performance: Provides visibility into performance trends against strategic goals
• Reduce business risks: Identifies issues before they become problems to keep processes running at peak performance
• Streamlined reporting: Consolidates data from multiple sources and provides a single point to view information, simplifying analysis
• Produce forms and outputs: Allows users to format common forms in WYSIWYG (What You See Is What You Get)
Operational Metrics: Provides a single point of view to key enterprise performance measures and helps identify issues before they become problems.
Reporting Framework: QAD's Reporting Framework enables manufacturers to quickly create and produce forms and reports. It includes an intuitive drag and-drop designer, a viewer and a batch scheduler. It allows flexibility in both data sources and output formats.
Embedded Analytics: Integrates analytic content and capabilities within business process applications. It provides relevant information and user specific analytical tools, so users can work smarter and more efficiently within.
QAD Enterprise Applications. Business Intelligence: QAD Business Intelligence unifies data from multiple sources across the enterprise, providing a comprehensive solution that enables key enterprise decision makers to access, analyze and share critical information.
Mobile: Enables the access of analytics and performance information from mobile devices including drill down capabilities and flexible search criteria.
QAD BI Data Warehouse Designer: Allows data consolidation, optimization, multicurrency consolidation, support for database maintenance tasks and impact analysis, and provides a single repository for transformation logic.
QAD BI Modules: Integrates with QAD apps out of the box and organizes data access without complex database queries and programming resources.
QAD BI Portal: Enables decision makers to create and reuse secure dashboard components placing critical data at their fingertips.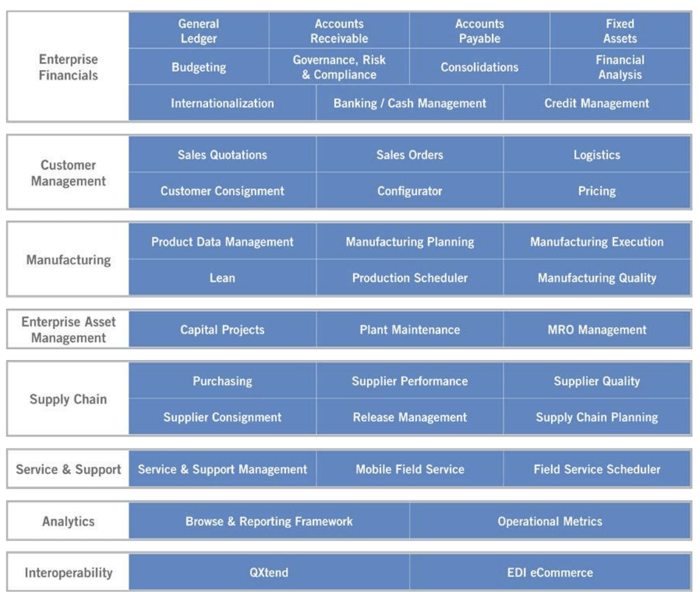 QAD ERP Ebook
Download our comprehensive guide to QAD ERP
QAD ERP is a versatile, cloud based business solution that can support a variety of business needs. With scalable pricing and a robust set of features, it's no wonder that so many businesses have adopted the software. You can use it to manage customers, products and orders and effectively track inventory. You can also use it to streamline your business processes.

To learn more about the software, download our free QAD ebook today. It contains everything you need to know about this powerful software solution and how it can benefit your business.
QAD ERP
QAD ERP History
QAD ERP was created in 1979 by Pamela Lopker and her husband Karl Lopker in Santa Barbara, California. The company was created with the purpose of creating an integrated business software for manufacturering organizations. The founders saw huge potential in the manufacturing software industry and QAD has certainly capitalized on this, seeing tremendous growth over its years of operation.
QAD now have over 1,600 employees and are running in over 100 companies worldwide with several editions of the solution available.
QAD ERP
Deployment
QAD ERP is offered both as an On-Premise ERP solution as well as a Cloud ERP solution. Customers can also exercise the ability to move QAD ERP from the Cloud to On-Premise and back again, which is a true differentiator for customers looking for the maximum flexibility.
QAD ERP Support
QAD ERP offers global network of local support centers gives 24/7 access to answers, in multiple languages. Support is also provided through online self service resources. Remote access diagnostic tools, extensive searchable knowledge base, online documentation and training guides ensure fast time-to-value during implementation and beyond for QAD ERP users.
QAD ERP also offers:
• Phone, web and chat access • 24/7 critical system down support • Global access to live support • Remote access diagnostics • Established incident response times based on severity Online Self Service • Unlimited and personalized Web Accounts for each employee • QAD Knowledgebase • Incident creation and tracking • QAD Learning Center • Product documentation library • Product training guides • QAD store & download center • QAD license usage tool • QAD forums New Releases & Product Updates • Major and minor releases and upgrades • Product changes information system • Proactive customer advisories • Compatibility guide
QAD ERP
Localizations
QAD ERP claims that their software has been deployed in over 110 countries, configured towards local tax standards.
However, from Oracle NetSuite's SuiteApp website, many of them are offered via local partners rather than via Oracle NetSuite themselves.
QAD ERP
Languages
Oracle NetSuite currently supports 27 languages.
QAD ERP
QAD Learninng & Enablement
In this section we'll cover the localization packs, languages and support available in QAD ERP
QAD helps its customers to maintain peak system effectiveness through online training. QAD delivers a comprehensive range of online training, complete with a Learning Management System to track user completion.
Additionally, QAD has a schedule of classroom training events around the world and can schedule bespoke training for its customers. All training can be harnessed by conducting a Learning Q-Scan.
A Learning Q-Scan is a predefined consulting engagement in which QAD Consulting assesses the gap between your users' skills and the required skills, defines a learning path and loads it into the online QAD Learning Management System.
The Learning Management System and access to online training are part of QAD's support program and require no fee for customers on current maintenance contracts. QAD offers a variety of convenient, accessible and affordable training options.
Online Courses:
The Learning Center supports more than 300 online courses about QAD products and industry concepts, available at no charge to customers who are active on QAD Support.
Classroom Training:
Attend instructor-led courses that offer focused attention, hands-on exercises and knowledge transfer from subject matter experts. Certification programs: Validate user's knowledge and mastery of QAD product functionality through product exams.
Custom Courses:
Request tailored training on-site, to meet specific company needs and business processes, scheduled right when required.
QAD Learning Center
The QAD Learning Center is the one-stop destination for all QAD courses and training materials. QAD ERP users can visit the Learning Center to:
• View training recommendations by job role
• Peruse online resources and the latest training guides
• Connect with virtual training environments to work directly with QAD Enterprise Applications
• Learn at your own pace, omitting or repeating activities as desired
Start Your QAD ERP Evaluation
Template
ERP Requirements Document
Compare and evaluate Oracle NetSuite as well as others ERP solutions with our free ERP requirements document checklist. Use our free template to build your own ERP functional and non-functional requirement.
DOWNLOAD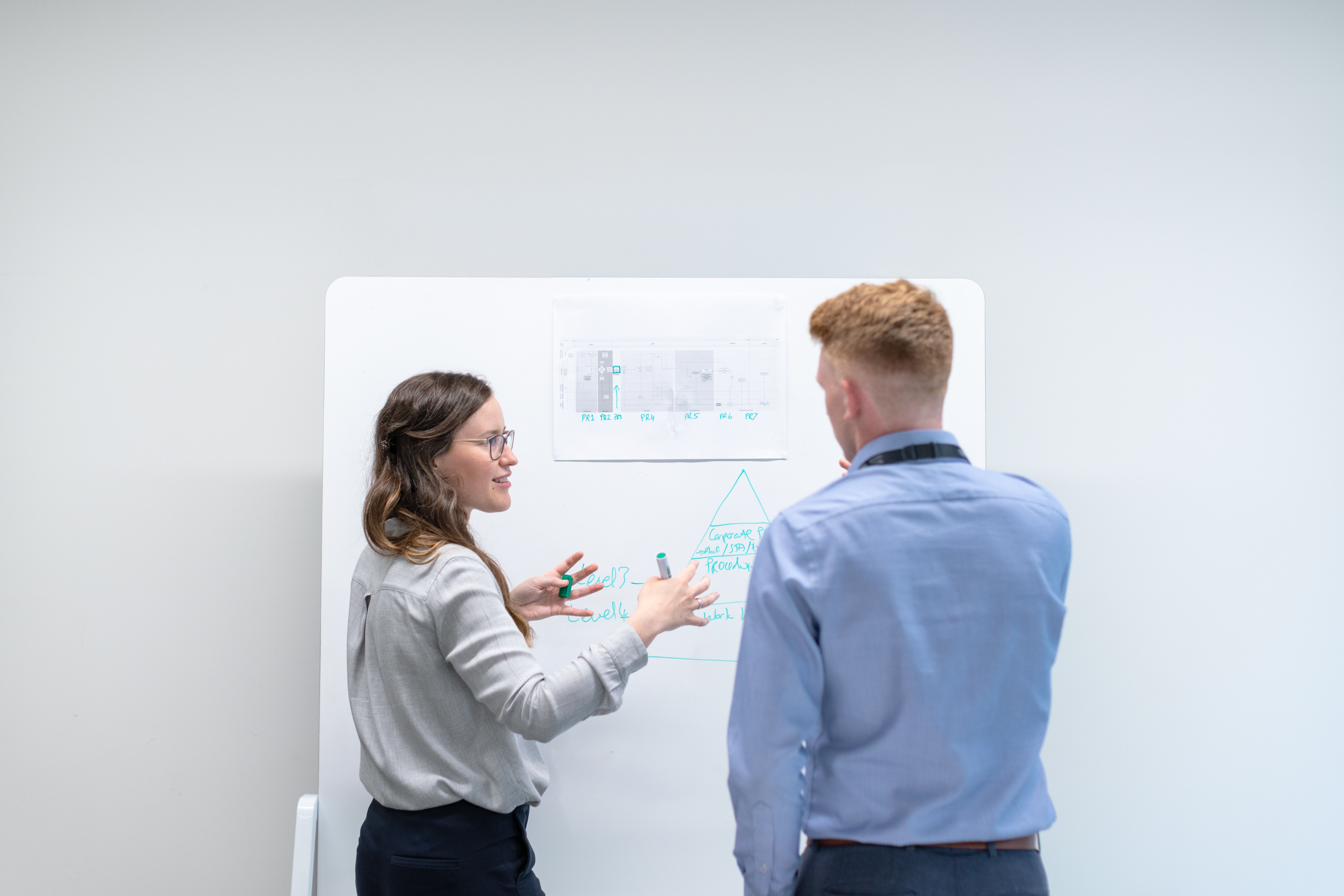 Template
ERP Vendor Selection Criteria Checklist
Start your ERP evaluation process faster by downloading our ERP Software Vendor Selection Criteria Checklist.
DOWNLOAD
Advice
Compare ERP Systems
Get 1-1 advice with an ERP Research specialist to help you compare Oracle NetSuite and select the best ERP solution for your business.
ERP ADVICE
QAD ERP
QAD ERP Frequently Asked Questions (FAQ)
How much does QAD ERP cost?
QAD ERP is a low-medium cost ERP solution.