SAP S/4 HANA Cloud User Interface (UI)
SAP S/4 HANA Cloud takes advantage of SAP's award winning user interface technology, Fiori. Unlike SAP S/4 HANA's predecessors such as ECC6 or R/3, S/4 HANA has a modern, fresh user interface which adapts based on the users role and authorisations.
Much like SAP Business ByDesign, S/4 HANA Cloud also uses HTML5 technology in order to optimise itself for viewing based on the device you are using.
As your SAP S/4 HANA Cloud consultant we can walk you through a user interface experience.
What is SAP S/4 HANA Cloud?
SAP S/4 HANA is a next-generation business suite that simplifies core business processes and enables you to operate more efficiently. With SAP S/4 HANA, you can run your core business with complete flexibility, while gaining the agility to respond to changing market conditions.
SAP S/4 HANA is built on the SAP HANA platform, which enables in-memory computing, real-time analytics, and the option to extend SAP software functionality with Hana components such as Hana Cloud Platform, Hana Business Accelerators, and Hana Cloud Integration.
With SAP S/4 HANA, you can:
• Run core business processes at the speed of thought with in-memory computing.
• Run real-time analytics, and gain insights from all your data.
• Run extended business operations on the SAP Cloud Platform.
• Maximize business value with innovative tools like SAP Jam, SAP Fiori, and SAP Cloud Platform Integration.
SAP S/4 HANA Cloud Pricing
SAP S/4 HANA pricing is licensed on a subscription basis which is typically paid annually.
Licensing is dependent on the amount of users, their level or responsibilities within the system, advanced modules and third party extensions you require.
Let us know how many users you need and we'll be in touch to provide a quick, hassle free SAP S/4 HANA cost estimate.
SAP S/4 HANA Cloud ERP Competitors
SAP S/4 HANA Cloud Functionality Overview
SAP S/4 HANA offers several modules as part of the core product as well as many advanced modules and third party extensions.
In this section we review the core functionality and modules included in SAP S/4 HANA.
The current version is was last updated in October 2020. In this section we have curated a list of the core modules which SAP S/4 HANA offers:
SAP S/4 HANA Cloud
SAP S/4 HANA provides finance and accounting covering general ledger, accounts payable and receivable with comprehensive support for disparate organisations operating over several locations, countries and operating entities. Reporting is embedded, as is artificial intelligence (AI) and machine learning (ML) capabilities.
SAP S/4 HANA Cloud
Project Management & Accounting
SAP S/4 HANA offers a lot of functionality for professional services automation, including project management and accounting capabilities that support your operational & finance teams.
SAP S/4 HANA Cloud
SAP S/4 HANA ERP enables you to optimize material flow by managing demand and supply. Design, set up, and execute flexible warehouse and manufacturing processes to fit your products and business model and gain maximum insight into your business. Increase collaboration with your customers and suppliers.
SAP S/4 HANA Cloud
Supplier Relationship Management (SRM)
SAP S/4 HANA ERP helps you identify and manage the best suppliers for materials and services. Gain insight into order management, supplier invoicing, and purchase requests. Enable individual employees to perform self-service procurement and streamline operations.
SAP S/4 HANA Cloud
Human Resources (HRIS)
SAP S/4 HANA provides a light human resources capability for time recording, absence management and a basic employee database. For further human resources capabilities, S/4 HANA relies on SuccessFactors or other third party HR applications to enrich this core functionality.
SAP S/4 HANA Cloud
Sales Order Management
SAP S/4 HANA can handle basic sales order management for both products and services.
SAP S/4 HANA Cloud
SAP S/4HANA Inventory Management is a comprehensive module designed to optimize inventory and supply chain processes for businesses across various industries. It offers real-time inventory visibility, advanced stock management, seamless integration with other SAP modules, and a user-friendly Fiori interface. By leveraging these features, organizations can efficiently manage stock levels, reduce costs, and improve overall operational efficiency.
SAP S/4 HANA Cloud
SAP S/4HANA EWM is a next-generation warehouse management system that offers seamless integration with the SAP S/4HANA ERP platform, enabling efficient and intelligent supply chain operations. It leverages advanced analytics and real-time data processing to optimize warehouse processes, inventory management, and resource utilization.
SAP S/4 HANA Cloud
SAP S/4HANA Quality Management is a component of the SAP S/4HANA ERP system. It provides a comprehensive suite of tools for planning, controlling, and monitoring the quality of products and processes throughout an organization.
SAP S/4 HANA Cloud
SAP S/4 HANA MRP (Material Requirements Planning) is a tool that aids businesses in managing their production and procurement processes efficiently. It provides real-time planning capabilities, enabling companies to optimize resource allocation, reduce costs, and improve operational efficiency.
SAP S/4 HANA Demo
ERP Research can organize a personalized demonstration of S/4 HANA. We'll reach out immediately to schedule your demo.
See how SAP S/4 HANA ERP software can help your business to create new efficiencies, hassle free by checking out our S/4 HANA reviews or by comparing ERP systems
Organise a personalized demo of SAP S/4 HANA with a local certified solution provider suited to your business needs and industry.
SAP S/4 HANA
SAP S/4 HANA Cloud Industry Fit
Which industries are best suited to S/4 HANA and why?
Professional Services

Consumer Products

Pharmaceuticals

Manufacturing & Discrete Industries

Financial Services
Professional Services Businesses Run Better on S/4 HANA
S/4 HANA offers a lot of functionality that can help professional services firms including integrated financial management & accounting, deep project management, billing, customer relationship management and more.
The Scalable Foundation For Modern Technology Companies
SAP S/4 HANA is an ERP solution that technology and consumer product organizations can use to manage core business operations including finance, operations, supply chain, and human capital management.
SAP S/4 HANA has a suite of applications that are perfect for high tech & electronics organizations looking for an integrated view of all financial and operational data. As such it provides strong capabilities for billing, revenue recognition and professional services automation. This allows tech businesses to manage the whole quote to cash process as well as project fulfilment.
Align every aspect of your operations to the needs of modern consumers. Anticipate, plan, and manage demand to deliver the consumer goods and products shoppers crave.
SAP S/4 HANA Delivers Delivers An All-in-One Solution For Pharmaceuticals
SAP S/4 HANA offers a lot of functionality that can help pharmaceutical businesses include integrated financial management & accounting, warehouse and inventory management, supply chain plus industry solutions for research and development.
S/4 HANA helps to improve project control and development, manage enterprise projects effectively and streamline project lifecycle management.
Helping organizations to streamline shop floor processes
Combining manufacturing expertise, micro-vertical functionality, and modern technologies, our solutions help industrial organizations of any size transform even the most complex manufacturing processes into a competitive advantage.
SAP S/4 HANA helps you to meet customer demand and develop new revenue streams by shrinking supply chain costs, speeding time to profit, shortening cycle times, and minimising scrap and rework.
In The Experience Economy, Bank Need To Exceed Expectations
Reach more customers and achieve new levels of trust with a real-time intelligent enterprise and integrated financial insight and risk control using SAP S/4 HANA for banking and finance.
With the Intelligent Enterprise framework, SAP S/4 HANA provides integrated applications, intelligent technologies, and a digital platform to enable banks to better serve current customers and reach the underbanked to support financial inclusion.
SAP S/4 HANA
Third Party Extensions
SAP S/4 HANA is a product which is sold and implemented primarily through SAP Value Added Resellers (VARs) and these partners have also contributed to the products development over the years, by developing a whole host of third party solution extensions.
These extensions increase the capabilities of the core SAP S/4 HANA product to enable it to provide enhanced functionality for different industries, geographies and use cases. However, be aware that this functionality is not always 100% supported or mandated by SAP and fundamentally you are buying software and extensions with the proviso that these partners will continue to support it.
Some of the SAP S/4 HANA solution extensions include:
eCommerce & online web shops.
EDI integration
Warehouse Management Systems (WMS)
Freight Management
Dealer Management Systems
Rental Management Solutions
GET PRICING
SAP S/4 HANA History
First launched in 2015 as an On-Premise ERP solution, the S/4 HANA platform has broad applicability and is the engine for SAP's entire business.
The ERP solution is the next generation, flagship ERP solution from SAP, succeeding predecessors R/3 & ECC6. Since 2015, several other flavours of S/4 HANA have been launched, including public and private Cloud offerings.
SAP S/4 HANA is essentially an in-memory, column-oriented, column-structured database. This technology ensures that SAP S/4 HANA can process huge amounts of data, while performing complex queries, in real time.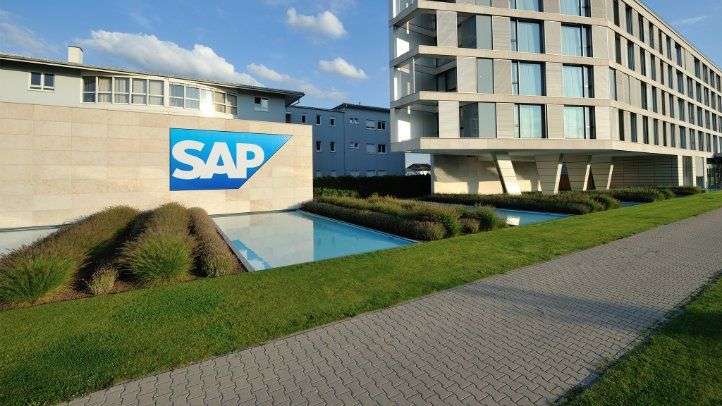 SAP S/4 HANA Cloud
Deployment
SAP S/4 HANA Cloud can be deployed as a traditional On-Premise model or in the Cloud through one of SAP's Cloud offerings:
S/4 HANA On-Premise: SAP S/4 HANA can be deployed as an On-Premise solution in your own datacenter or in a hyperscaler or 3rd party datacenter of your choice. This option provides the most flexibility and control over the data and software but can have a higher TCO.


S/4 HANA Cloud Essentials: SAP S/4 HANA Cloud Essentials is a pure software-as-a-service offering of S/4 HANA. The solution is hosted, maintained and upgraded on a quarterly basis by SAP, providing the lowest cost of ownership, but also a high degree of standardization.


S/4 HANA Extended: SAP S/4 HANA Cloud Extended is a private hosted solution, offering customers hosting and upgrades as part of the solution, with more control over the upgrades process and a greater degree of flexibility than SAP S/4 HANA Cloud Essentials. This solution can be deployed in an SAP or Hyperscaler datacenter and is paid on a subscription basis.


S/4 HANA Private Cloud: SAP S/4 HANA Private Cloud offers software subscription and hosting within one subscription. Private Cloud offers flexibility but industries of scale on hosting.
You can learn more about implementing SAP S/4 HANA here.
GET PRICING
SAP S/4 HANA Cloud
Integration
SAP S/4 HANA offers a robust range of integrations with third party tools and extensions. These capabilities allow customers that integrate seamless with their own pre-built solutions or third party applications.
These include:
Shopify
Magento
Hubspot CRM
Salesforce
Microsoft Dynamics 365
GET PRICING
SAP S/4 HANA Cloud
SAP S/4 HANA Cloud Localization, Languages & Support
In this section we'll cover the localization packs, languages and support available in SAP S/4 HANA ERP.
Localizations
SAP claims that S/4 HANA software has been deployed in over 33 countries, configured towards local tax standards.
Languages
S/4 HANA currently supports 18 languages.
Support Network
SAP S/4 HANA implementation partners provide post implementation and migration support for S/4HANA as well as Patch Upgrade, Monitoring, and Landscape optimization.
Start Your SAP S/4 HANA Evaluation
Template
ERP Requirements Document
Compare and evaluate SAP S/4 HANA as well as other ERP solutions with our free ERP requirements document checklist. Use our free template to build your own ERP functional and non-functional requirement.
DOWNLOAD
Template
ERP Vendor Selection Criteria Checklist
Start your ERP evaluation process faster by downloading our ERP Software Vendor Selection Criteria Checklist.
DOWNLOAD
Advice
Compare ERP Systems
Get 1-1 advice with an ERP Research specialist to help you compare SAP S/4 HANA and select the best ERP solution for your business.
ERP ADVICE
How much does SAP S/4 HANA cost?
The cost of implementing SAP S/4 HANA will vary from project to project. As with any ERP solution, SAP S/4 HANA has it's own set licensing, implementation and support costs. So SAP costings are tailored to suit the requirements of their customers. The minimum cost of an SAP S/4 HANA subscription is around $25,000-$50,000 annually, with implementations being 1-4x that cost.
The quickest and most accurate way to understand the costs for your business is to contact a specialist software supplier. Get in touch to speak to a member of our team today.
How do I get SAP S/4 HANA ERP?
How do I get technical support for SAP S/4 HANA ERP?
As SAP S/4 HANA is sold through partners, we can help match you with an implementation partner which will be able to help you with technical problems. If your S/4 HANA partner then cannot resolve the problem, they will raise a support ticket with SAP directly.
How do I find a reselling partner?
SAP S/4 HANA is sold and implemented through a global network of SAP partners with industry expertise. Contact us today for a detailed assessment, consulting services, and additional pricing.
What licenses do SAP offer?
SAP has two primary licensing models which serve its Cloud & On-Premise customers. Cloud customers typically pay an annual subscription fee inclusive of software, hosting, upgrades and basic support. On-Premise S/4 HANA customers however typically pay higher upfront costs for licensing which are then depreciated over 5-10 years, or the lifecycle of the solution.
Get a quick, hassle free cost estimate for S/4 HANA software licensing and implementation for your business.
Is SAP S/4 HANA suitable for small businesses (SMB) & SME's?
SAP S/4 HANA was purpose built to meet the specific needs of large businesses and medium to large organizations. SAP S/4 HANA customer base ranges from organisations with 200 employees, up to several thousand.
What's the difference between SAP S/4 HANA and Business ByDesign?
SAP Business ByDesign is branded as a 'suite-in-a-box'. It offers a wide set of functionality in one product and it comes ready to go with business processes pre-defined within the system. On the other hand, S/4 HANA is built with a best of breed approach in mind. S/4 HANA comes with a great deal of functionality out of the box, but relies more on the wider SAP product set to extend those capabilities into other areas such as CRM, human resources and more.
Can I deploy SAP S/4 HANA as a Cloud ERP Solution?
Yes - SAP S/4 HANA can be used On-Premise or offers a variety of Cloud options ranging from SaaS to private cloud.
SAP S/4 HANA was developed originally as an On-Premise or perpetual license solution in 2015.
Today, SAP S/4 HANA is still available On-Premise but also as a software as a service (SaaS) solution or as a Private Hosted solution ERP.
How do I install or implement SAP S/4 HANA?
SAP S/4 HANA is primarily implemented by SAP's value added reseller network and therefore it's generally not recommended that you try to install the solution yourself.