ERP Selection
Why do ERP Projects Fail?
In the world of enterprise resource planning projects, mistakes, setbacks, additional cost and failure are commonplace ...
---
In the world of enterprise resource planning projects, mistakes, setbacks, additional cost and failure are commonplace - but so is success, greater efficiencies and huge rewards. According to Gartner, 55-75% of ERP projects either fail or don't meet their intended objectives.
But what causes an ERP project to fail? More often than not, it's due to the same mistakes made by consultants, the business themselves, as well as vendors.
To learn about real life ERP implementation case studies, download our case study report below, covering ERP implementations such as Nike, Lidl, Hersheys and more: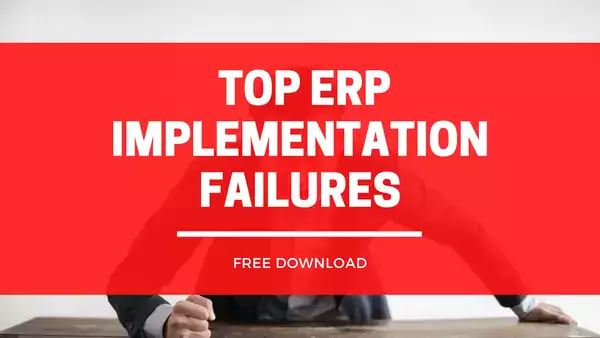 In this article we'll address the top 5 mistakes that can lead to an ERP project failure:
1. The wrong ERP vendor or partner was chosen.
Despite the impressive demos, snazzy dashboards and marketing videos - the ERP solution didn't quite live up to what was sold by the vendor when it came to project kick off and implementation. Sometimes ERP software is oversold and demos can be full of smoke and mirrors, suggesting that the technology is capable of more than it can deliver. However, it isn't always the fault of the ERP vendor. Sometimes businesses fail to capture, document and communicate their business requirements to their ERP vendor & partner. This is often due to poor planning in the early stages of the ERP evaluation & comparison process.
We also often see that organizations get swayed by politics. You may have a board member which previously used Oracle in an FMCG company - so naturally they think it will work for a professional services company too. With every ERP solution catering to different markets, geographies, industries and company sizes, its critical to run an independent ERP selection process for your business.
Time to rip up the contract and start again. However it's rare that the ERP software vendor will let you, instead you'll be stuck with footing the bill, taking your ERP vendor or partner to court, or simply living with it.
To avoid this, we recommend building a detailed ERP requirements template and distributing it to multiple providers, you can download our free template here.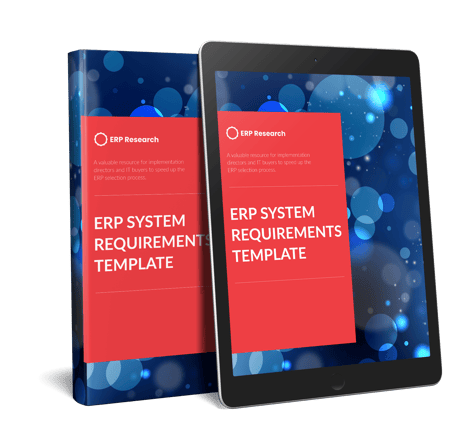 How do you avoid choosing the wrong ERP?
Next time, research the market thoroughly and speak to an unbiased external consultant with knowledge of all Tier 1 & 2 ERP solutions. Ensure that the enterprise resource planning solutions, whether cloud or on-premise meets your functional requirements by comparing several solutions using.
So next time, use our free ERP comparison tool and document your business requirements thoroughly using an ERP requirements document.
2. You wanted everything your way.
"The single biggest failure point for ERP implementations is the need for change management." Neville Turbet, Project Perfect.
Generally speaking, nowadays accounting & enterprise resource planning systems should dictate the way you run the majority of your processes unless your processes provide a competitive differentiator and ROI.
Many solutions come out of the box with processes that operate across financial management, inventory, procurement, supply chain, project management and more.
Long gone are the days when an army of consultants charged $2000 per day to recreate the wheel, building procure to pay or lead to cash processes from scratch and to custom specifications. Sure, your systems integrator can make it do things the way you've also done them, but that will cost you time and money.
Customization is unavoidable, but it's important to do it where it really counts to make sure your project is delivered on time, on budget and without too much heart ache.
3. Bad training and end-user adoption.
Embarking on an ERP project can be tough! You have to assemble large internal and external teams, sit through endless meetings, battle setbacks and manage deadlines and much more to avoid implementation failure.
But don't forget that once the system is perfectly configured, you need to actually train people to use it. You also need to generate internal excitement about the project to encourage your employees to embrace the change. Otherwise, they'll quickly start to tell others within the business that it doesn't work properly as you roll out. Before you know it, the project and you will be labelled a failure.
Despite this, many organizations get caught up in thinking about objective goals and milestones during the ERP implementation process and forgetting about the most important catalyst for change - their people. Without your employees adopting and learning how to use the system to its maximum potential, your ERP project is bound to fail. Unfortunately, an ERP project is much more than just an IT project - the ERP system will not run your business on it's own, you need people to augment technology and vice versa.
Learn more about ERP change management in our detailed explainer.
4. You ran out of budget.
Sure, the systems integrator quoted you $250,000 and said it would take 5 months. Here you are 6 months later and $100,000 over budget. The lesson learned is to make sure you thoroughly vet your partners assumptions and your own before even talking to potential vendors or risk a nasty surprise.
That said, many organizations fail to properly communicate their needs during an ERP implementation which can then lead to failure. That can be fine, but your organization then needs to be able to adopt the standard processes your chosen system dictates. More often than not, organizations tend to fail to document their requirements properly, then ask their ERP implementation partner to customize the ERP solutions to their needs. This causes huge IT debt and setbacks to your ERP project. In most cases though, your ERP implementation partner will be happy to approve change requests and add more days and cost to your ERP project.
We recommend you properly document all of your ERP requirements and ensure all of your business stakeholders approve them before embarking on an ERP project. At ERP Research we provide you with free ERP requirements templates to help you to avoid ERP project failure.
5. You only review one vendor.
Your CFO said this system worked in his last company! The reviews were good! Nobody gets sacked for choosing that vendor! There's an exception to every rule, particularly when you're dealing with something as complex as an enterprise resource planning project.
Plus, reports show that running a competitive procurement process will lead to 16% savings on average.
Get ERP Project Ready
To find the right technology, ensure end user adoption, nail your budget and control expectations, speak to our team today for free.